The Last Date Worked On This Page Was
Wednesday, July 25, 2012 11:31:14 AM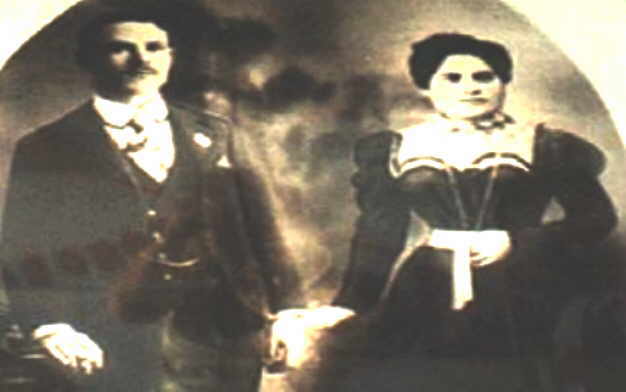 The Family Tree
Mariano Pede Villano and Mary Bovaconti
got married!
The Name Changed to Pedivellano
The Italian language confuses people when I or E is used in translation

They had 11 children, click on the name
of each to see how the family has grown...
(When The Name Is Linked It Is Underlined And Contains Data)
It shows the following correct info with the wrong spelling by census taker since the letter "E" sounds like "I" in Italian
Census shows Divillano
Mariano Pedi Vellano
See Our Pedivellano Reunion 112 Years Later Click Here
Came to New York in 1900 ship manifest with $20.00 in his pocket according to immigration records.
(the census taker didn't understand his name and listed him as the father with a name of Mary Anna Divillano born 1877.
The census taker wrote down that he was 33 years of age in 1911 claimed to come to North America in 1896
But the ship manifest shows he was 22 and came in 1900 he also claimed to be single
We have documents of marriage showing that he married Mariana (Mary) in 1903
Mary Bovi Conti
Mary claimed in the 1911 census she was 27 years
Her death certificate states she was born Dec 14 1881 so in 1911-1881=30 yrs
The death certificate shows she died Nov 11, 1935 1 month before her 53rd birthday
1935-52=1881 Mary Bovi Conti born Dec 14 1881 in Italy
Click To Enlarge Pic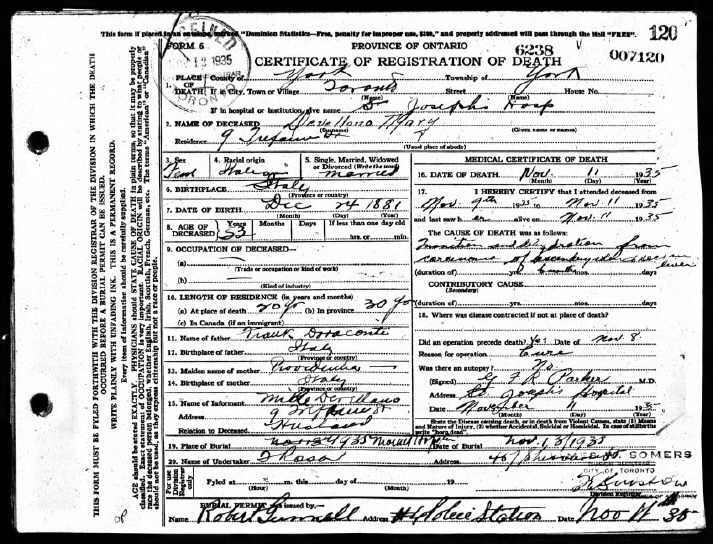 And shows the birth dates of 4 Children
Lived In Prince Edward,Ontario
The document below is from the 1911 Canada Census
| | | | |
| --- | --- | --- | --- |
| Frank DOB: March 1906 - 5 years old in 1911 | Sam DOB: Dec 1903 - 7 years old in 1911 | Mary DOB: August 1904 - 3 years old in 1911 | Paddie DOB:March 1910-1 years old in 1911 |


Click To Make Larger
This document below is from the 1911 Canada Census