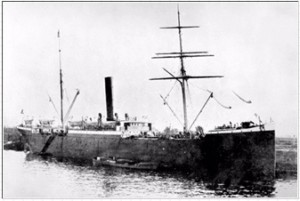 Marco Minghetti 1900 Vessel Palermo To New York
The Family name Devellano has changed many times throughout time…
May 1900 the ship manifest shows it as below with Mariano's arrival at Ellis Island.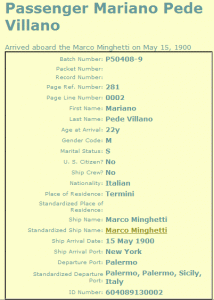 See This From Ellis Island Data Base
Its All Devellano History
The webmaster's research has shown that the family name has changed thru time as a result of many errors in government docs, including 1911 Canadian Census, and Ellis Island Ship Manifests. The origional  marriage certificate of Mariano and Marianna was found thru the Termini Imerese Database and 2 birth certificates Salvator and Francesco.http://www.termini-imerese.org .We have located documented family geneaology back to 1824 birth of Maria Scalia, the mother of Francesco Bova-conti who was the father of Marianna Bovi-conti who married Mariano Pedivellano in Termini Imerese, Sicily. The family name was Pedivellano at that time. 
My research has shown that the family shield was from Italian nobility enjoyed in Palermo, finding, among others, Antony who occupied the post of deputy warden of Castellammare of that city in 1441 and wore the toga senator in 1444-45. Weapon: red, coarse gold to the shoe, placed in band. The name was spelled Pedivillano back in 1441. An old aristocratic family of Palermo, the Mugnos Senator Antonio Pedivillano 1444, and a Philip capitand'arme extraordinary valley of Mazzara. Research back to 1317 shows the name was from a place called Pedivigliano,Italy Province of Cosenza, region Calabria. 
In 1317 appears Pedivillano, the center is populated by neighborhoods that surrounded Scigliano and was named Villanova.
The birth and marriage documents show the following information:
Mariano Pedivellano was born June 1877
Marianna Bova-Conti was born Dec 26 1883
Mariano's parents were Giorgio Pedivellano and Maura Glorioso
Marianna's parents:Francesco Bova-Conti and Providenza Crisanti

Francesco Bova-Conti mother was Maria Scalia (marriage document)
Marianna's brother Giuseppe Pietro Bova-Conti , DOB:June 29 1873
Marianna's brother Vincenzo Bova-Conti DOB: Dec 23 1875
Marianna's brother Salvatore Bova-Conti DOB: Jan 1 1879
Mariano (26 yrs)& Marianna Bova-Conti(20yrs)married April 16 1903

Mariano (Groom) was born in San Mauro
Salvator (Sam) was born January 9 1904
Francesco(Frank) was born Nov 10 1906 Origional Microfilm Docs.
Additionally my research has determined that the name Vellano origionates in Vellano, Italy a mountain village 2 hours north of Florence, Italy. The research continues , so drop back from time to time and see what is new!
Jimmy Devellano President of Detroit Tigers Wins AL Pennant 2012

Another championship ring for your collection!
Mary, Jimmy D and Fred @ Hockey Hall of Fame Sept. 9 2012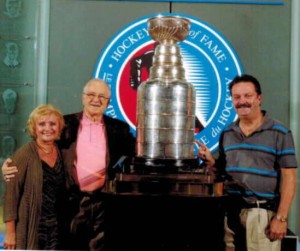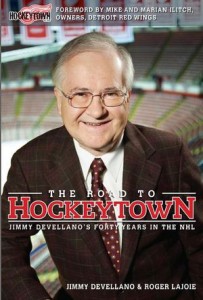 Click the link below to see ALL Jimmy Devellano's Hockey Page
http://devellano.com/jimmy-devellano/
FREE Shipping on orders over $39 at chapters.indigo.ca
Custom Search
This site under ongoing improvement,
If you drop back periodically you can check our progress.
Feel free to e-mail us your comments and new information or additions.